The 2023 China International Mini/Micro LED Industry Ecology Conference, co-sponsored by JM Insights and RUNTO, was held in Suzhou Courtyard Hotel. With the theme of "Ecological collaborative Innovation, Application everywhere", the top experts from the Mini/Micro-LED field and industry chain representatives gathered together to discuss the future development trend of the display industry. Zhang Xin, vice president of TCL CSOT and general manager of Display Technology Innovation Center, was invited to attend the conference and delivered a keynote speech entitled "TCL CSOT Mini/Micro LED Technology Layout", sharing the key progress and breakthroughs made by TCL CSOT in MLED new display technology.
Mini & Micro-LED display technology has a variety of different application scenarios according to different Pitch specifications and technical characteristics, which can cover many application fields such as indoor/outdoor display, commercial display, LCD backlight and small Pitch direct display, and has broad development prospects.
TCL CSOT started from the industry's first 75″ UD glass-based AM-MLED screen, and gradually pushed to product applications such as vehicle display, e-sports display and VR. In 2019, TCL CSOT's first glass-based star obside-based screen – 75-inch AM-MLED product was released; From 2020 to 2022, TCL CSOT has launched the first MLED in-car display application – 48-inch 8K AM-MLED R4200 curved in-car screen, the first MLED MNT esports application – 49-inch R800 curvature esports screen product, the first MLED VR display application – 2.1-inch 1512 PPI VR product. Zhang Xin believes that at present, MLED BLU products have entered the rapid rise channel, but it is still necessary to continuously reduce product costs in order to obtain greater sales growth. 
Mini LED direct display has a wide range of applications in outdoor, semi-outdoor and indoor. TCL CSOT continues to break through the large size splicing, high transparency, high brightness, flexible MLED direct display, and constantly expand the application scenario of product. For example, TCL CSOT has developed the world's largest 75-inch P0.6 MLED direct-display TV, the world's first P1.2 MLED transparent display, World's first 125-inch P2.2 MLED transparent display, and cylindrical MLED flexible display etc… At the same time, CSOT also explores the direction of large-screen splicing transparent MLED display to layout potential future commercial display applications.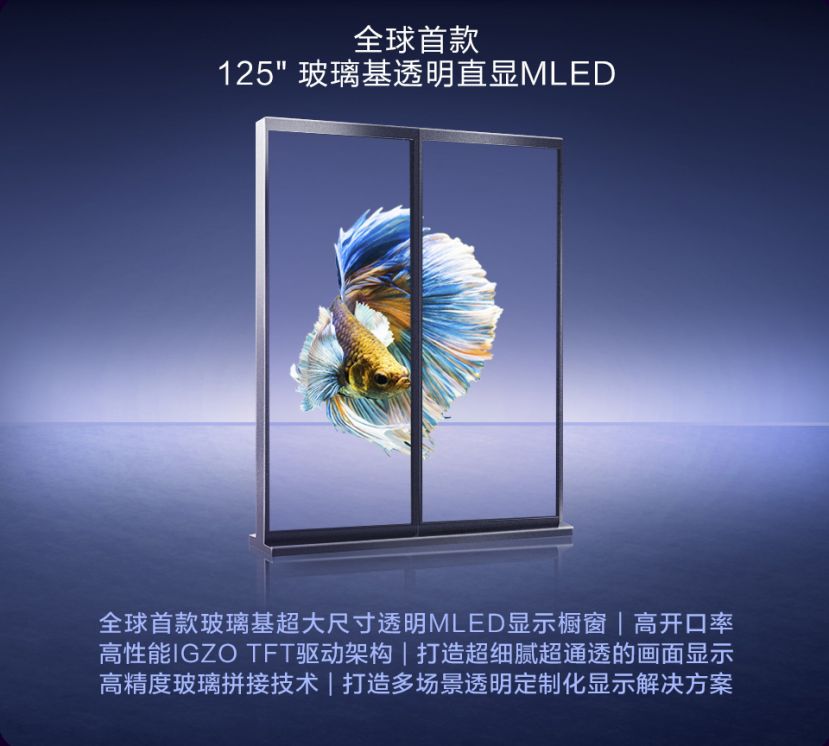 TCL CSOT Micro LED technology development mainly focuses on ultra-large size, on-board HUD display and AR/MR and other fields. So far, TCL CSOT has developed a 4″ P0.27 glass-based Micro-LED based on IGZO and LTPS device technologies, 8″ P0.5 transparent Micro-LED, 6.24″ P0.2 Micro-LED car, 18.8″ P0.4 Micro-LED stitch-free MNT, and innovative Micro-LED technology products such as 7.1″ P0.4 Micro-LED flexible display and 1.37″ Micro-LED high PPI watch, which will be continuously optimized in the future.
TCL CSOT backplane technology, drive compensation technology, LED chip, transfer and bonding technology and other key Micro LED technologies have made breakthroughs in stages. For example, TCL CSOT led the development of high mobility and high stability oxide technology, stability is better than other oxide devices with the same mobility; TCL CSOT is also working with industry chain partners to promote the development of LED chip technology. By integrating upstream and downstream industry chain resources, TCL CSOT has formed materials, processes, equipment, production line solutions and other technologies, and has reached a certain engineering manufacturing capacity.
Zhang Xin believes that at present, the Micro-LED related core technology industry is still in the continuous attack stage. Industry chain manufacturers are focusing on solving chip efficiency improvement, Transfer, Bonding, Test & Repair, of which a large number of transfer technology needs to be innovated from the assembly method and principle, rather than a simple upgrade of traditional patch technology. He  stressed that the integration of industrial chain resources, collaborative technology and product development is the key to the success of Micro-LED commercialization.
TCL CSOT has always been leading the future display trend with excellent technical strength and rich innovation results, and will also drive development by innovation in the future, helping China's display industry to accelerate into a global leading position, and injecting innovative impetus for future display scientific and technological progress.
---
Post time: Jul-28-2023