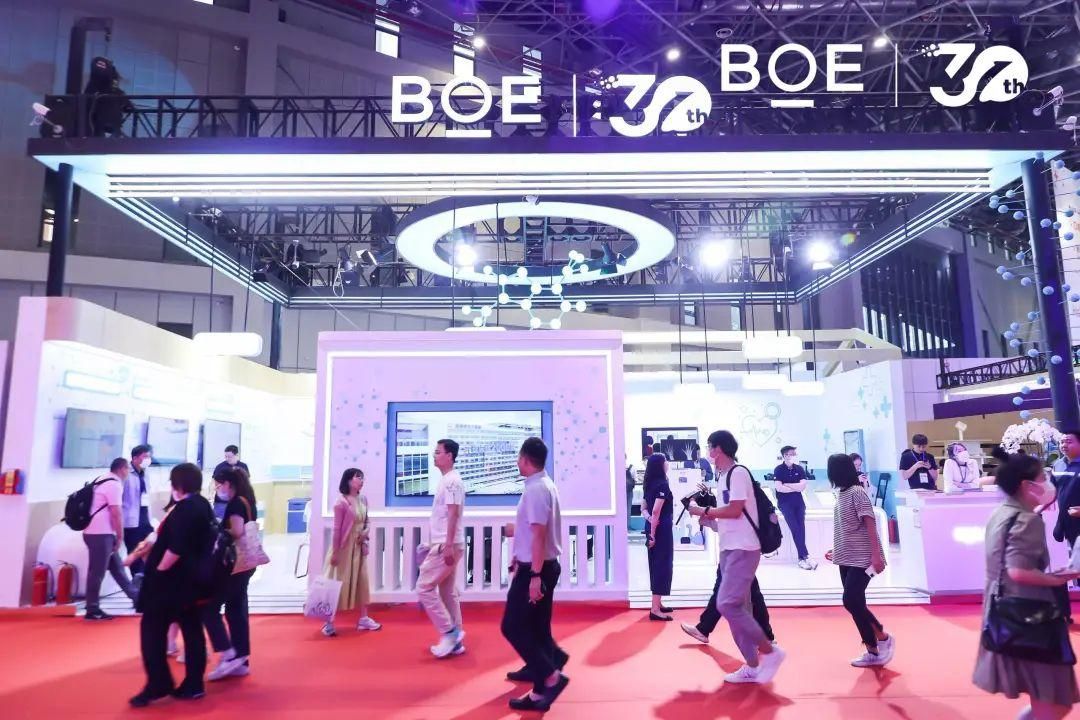 On May 14th., the 87th China International Medical Devices (Spring) Expo (CMEF) kicked off at the Shanghai National Convention and Exhibition Center, with the theme of "Innovation, Technology and Smart Future", attracting nearly 5,000 companies from all over the world.
BOE has made a major debut with a number of products and solutions deeply integrated with medical science and technology, such as biological detection, medical imaging, molecular diagnosis, severe disease early screening, digital health care, digital human body, etc…… It presents a one-stop, whole-process, scenario-oriented and comprehensive intelligent solution cluster for the public connecting hospital, community and home. 
This year marks the 30th anniversary of BOE's founding, as well as the 10th anniversary of BOE's smart medical business and sensing business. This CMEF exhibition highlights BOE's innovative exploration of "digital technology and medical" road of medical and industrial integration. 
As a pioneer in the era of the Internet of Things, BOE takes users and their health needs as the center, combines science and technology with medicine, promotes the wave of digital and intelligent reform in the medical industry, and provides the public with a service system covering the whole life cycle, the whole process and the whole scene. 
People-oriented, build the whole scene, the whole cycle of health management system
This time, BOE Smart medical solutions on display use the Internet of Things, artificial intelligence and big data technology to build a health Internet of Things management platform, opening up three scenes of hospitals, communities and homes, and provide the public with a one-stop, whole-process, scene-oriented and comprehensive whole-life health management system, attracting many visitors to stop and experience.
Hospital scene
BOE showcased cutting-edge medical products and solutions such as the Serious Disease early screening solution, AI-assisted medical image diagnosis system platform and smart ward solution. Among them, BOE serious disease early screening solution aims for lung cancer, gastrointestinal cancer, liver cancer, bladder cancer, cardiovascular and cerebrovascular diseases and other frequent serious diseases, which not only can realize accurate detection and greatly advance the threshold of disease detection, but also is conducive to the prevention of disease through early intervention.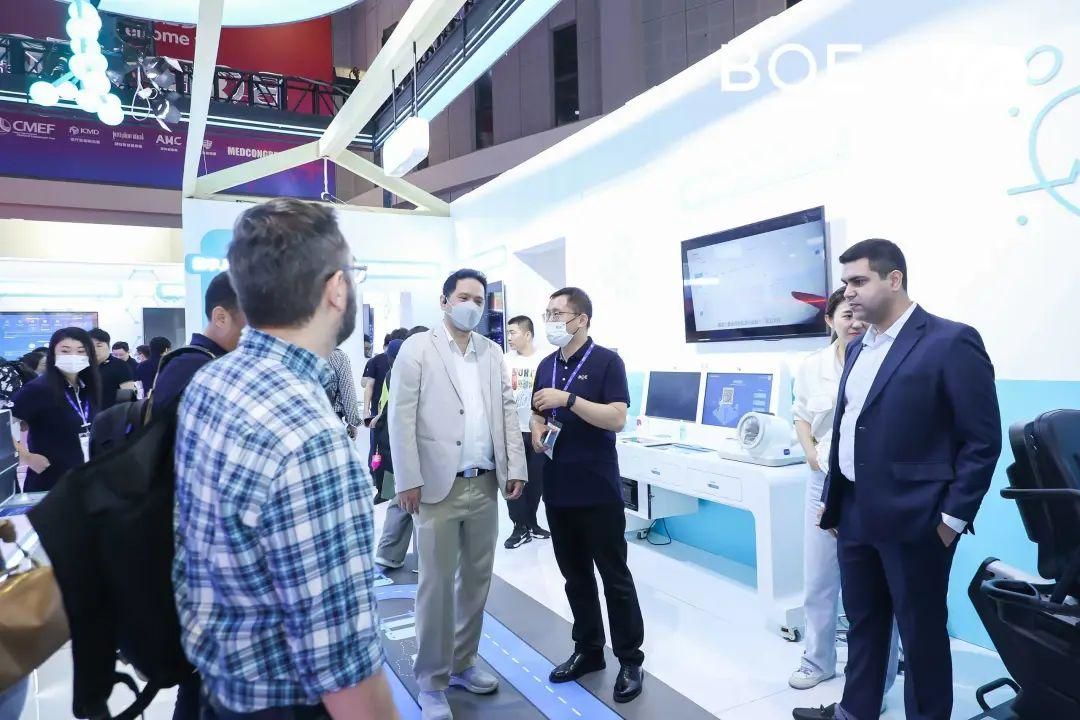 BOE Smart Ward solution connects multi-scene smart iot display terminal and monitoring terminal through the smart ward interactive system, which helps hospitals improve management efficiency and nursing quality while improving patient satisfaction.
The AI-assisted medical diagnosis system platform independently created by BOE takes the ultrasonic image AI all-in-one machine as the market entry point, and is composed of high-performance, highly integrated hardware and accurate and efficient AI software, which helps to improve the efficiency and accuracy of ultrasonic detection.
Community scene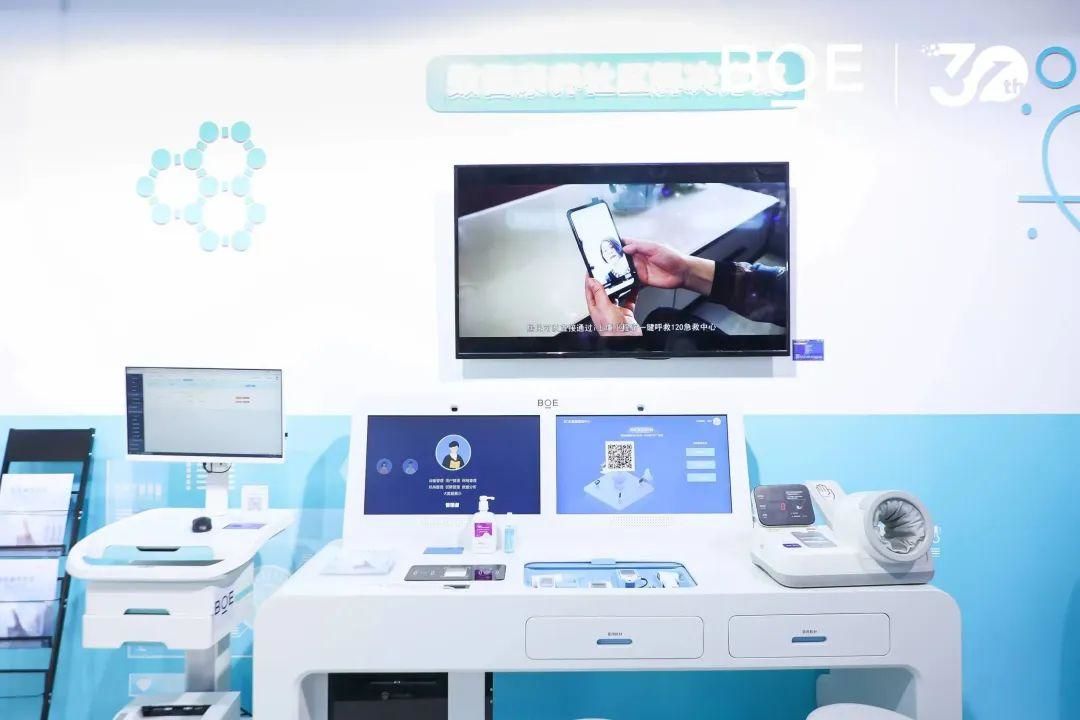 BOE has brought digital wisdom health care community solution, built a health Internet of Things platform with multi-sign digital detection terminal as the entrance, and used digital human 3D intelligent health interaction terminal for data interaction and service innovation. It can realize the intelligent connection of "people, things and services", build digital health community, create a closed loop of online and offline digital health services with health management as the core, smart terminal as the tool, and digital community as the support, so that quality medical services can benefit community residents.
Home scene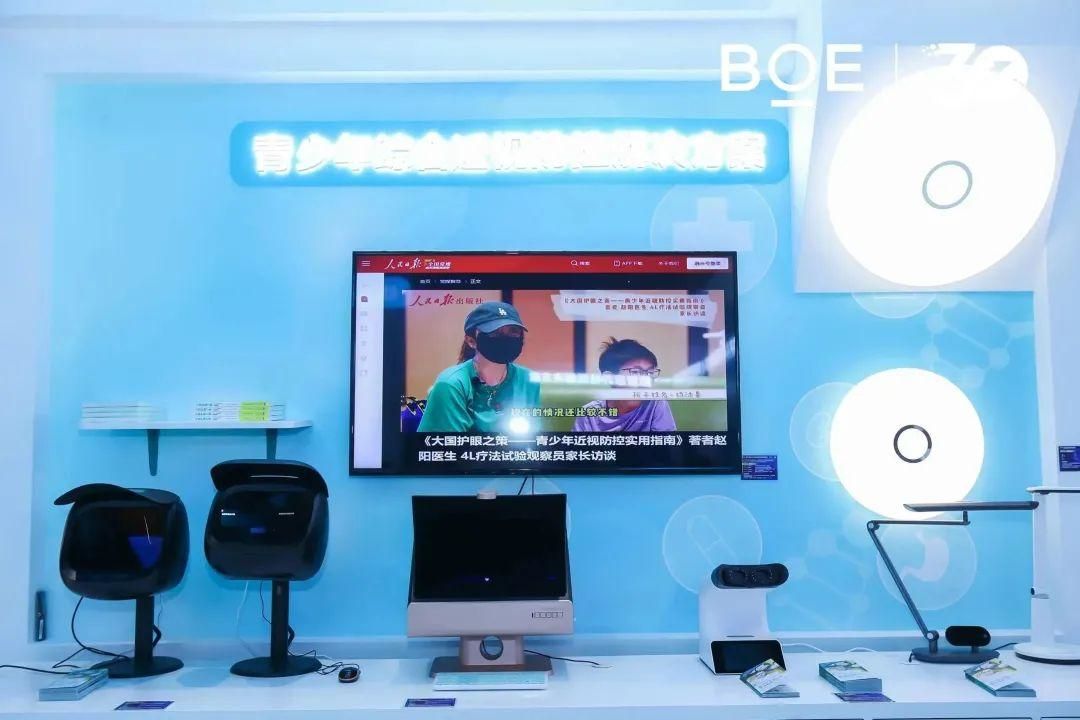 BOE's comprehensive myopia prevention and control solution for teenagers has attracted a lot of attention. BOE iot Hospital has created a comprehensive myopia prevention and control solution for teenagers with "1 platform +1 set of comprehensive therapy + multiple products".
Scientific and technological empowerment
A number of cutting-edge medical products were unveiled
In this CMEF exhibition, the NAT-3000 automatic nucleic acid amplification analyzer independently developed by BOE was completed within 30 minutes from adding samples to reporting results. It realizes the minimalist operation of "sample in, result out", and can be used in many application scenarios such as fever clinic, emergency, pediatrics, infection department, respiratory department, respiratory and critical condition. 
BOE's sensing business brings a number of cutting-edge medical sensor products such as passive digital microfluidic systems, glass microfluidic chips and medical image backboards.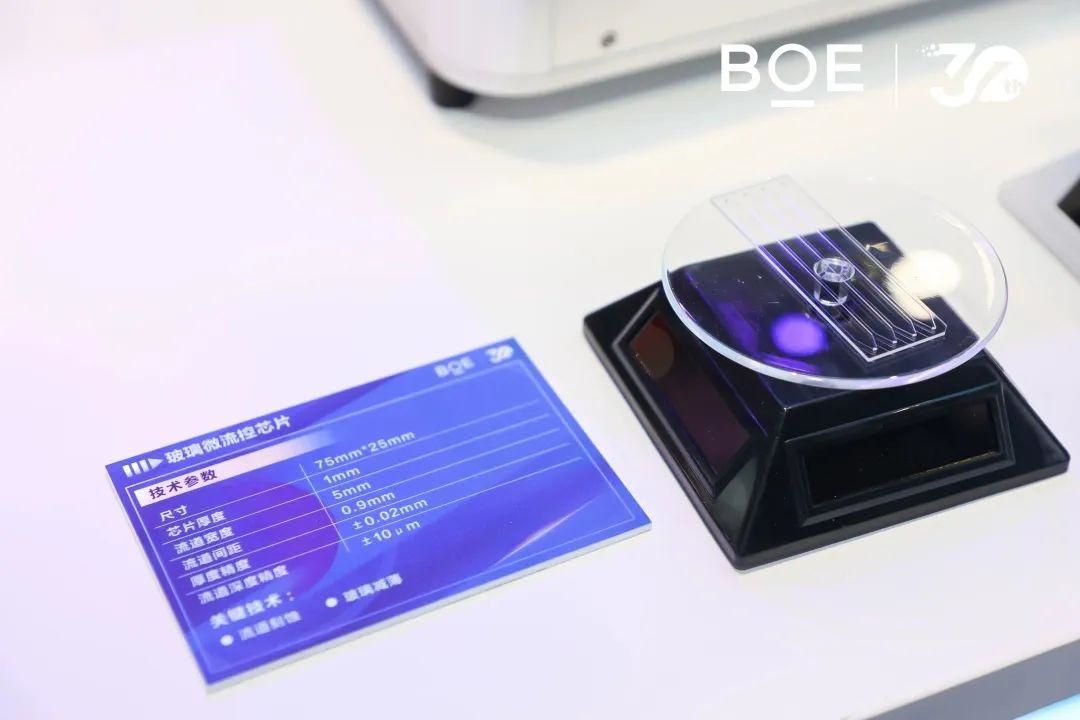 Among them, BOE passive digital microfluidic system can transfer the conventional biological experiment process which requires a large amount of artificial construction and reagent consumption to a chip, realizing the automatic whole process and increasing the aging by 80%, and the sample consumption can reach the minimum pL grade. It can be used in biomedical fields such as library preparation and single cell analysis.
Glass microfluidic chip processing scheme relies on exquisite glass processing and glass surface coating processing technology, can accurately control the flow channel structure, with the advantages of low fluorescence background, high quality stability. It can be widely used in gene sequencing, molecular diagnosis and other fields.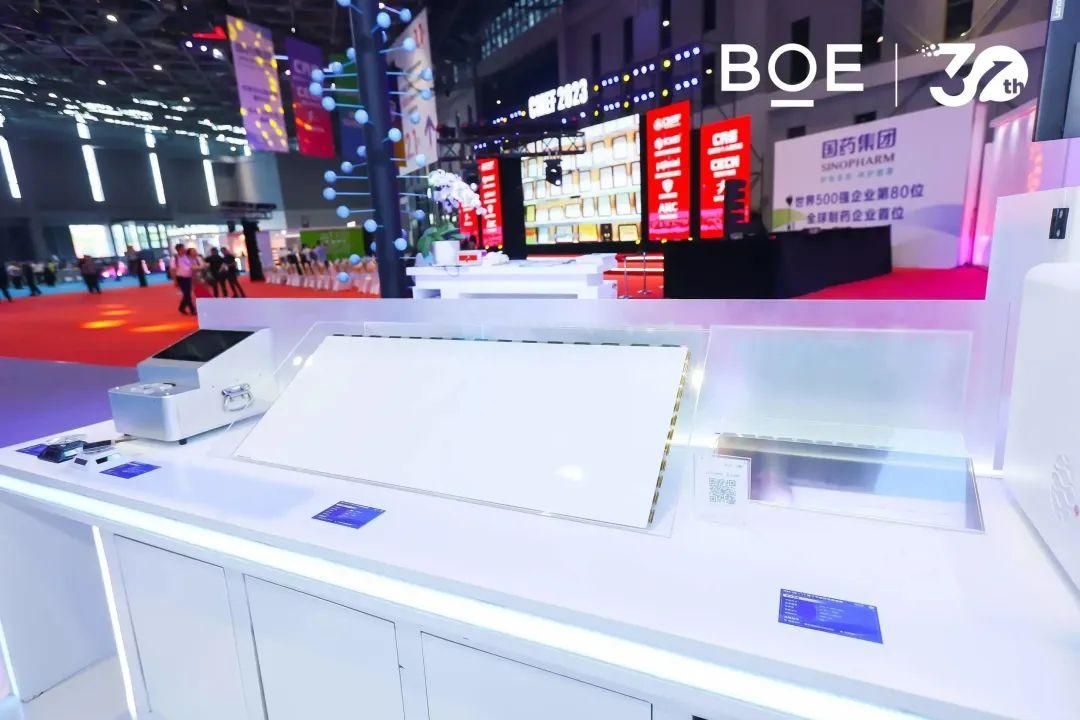 In terms of medical imaging, BOE medical imaging backboard products presented in CMEF this time reflect BOE's multi-form, multi-scene and cutting-edge product layout ability. IGZO products with a new generation of TFT material (indium gallium zinc oxide) significantly optimize the dynamic drive performance of the detector panel. Small pixel designs such as 100 microns further lead the trend of compatibility between resolution and detection efficiency.
The flexible products based on PI and 43*17 inch large size products show BOE's full-form productization ability. At the same time, the display of small size and high sensitivity products such as 5*5 inches and 6*17 inches also indicates BOE's product series strategy of keeping up with the industry demand, high adaptability and multi-application scenarios.
Recently, BOE X-ray tablet detector backboard products have been widely used in Europe, America, Japan and South Korea and other high-end medical devices, and widely recognized by customers around the world. 
Ten years of hard work to create a road of medical and industrial integration and innovation
BOE began to lay out the health industry in 2013. Through ten years of deep cultivation, it has made great progress in health management, digital medicine, smart health care and other fields, and explored a road of "digital technology + medical" medical integration and innovation.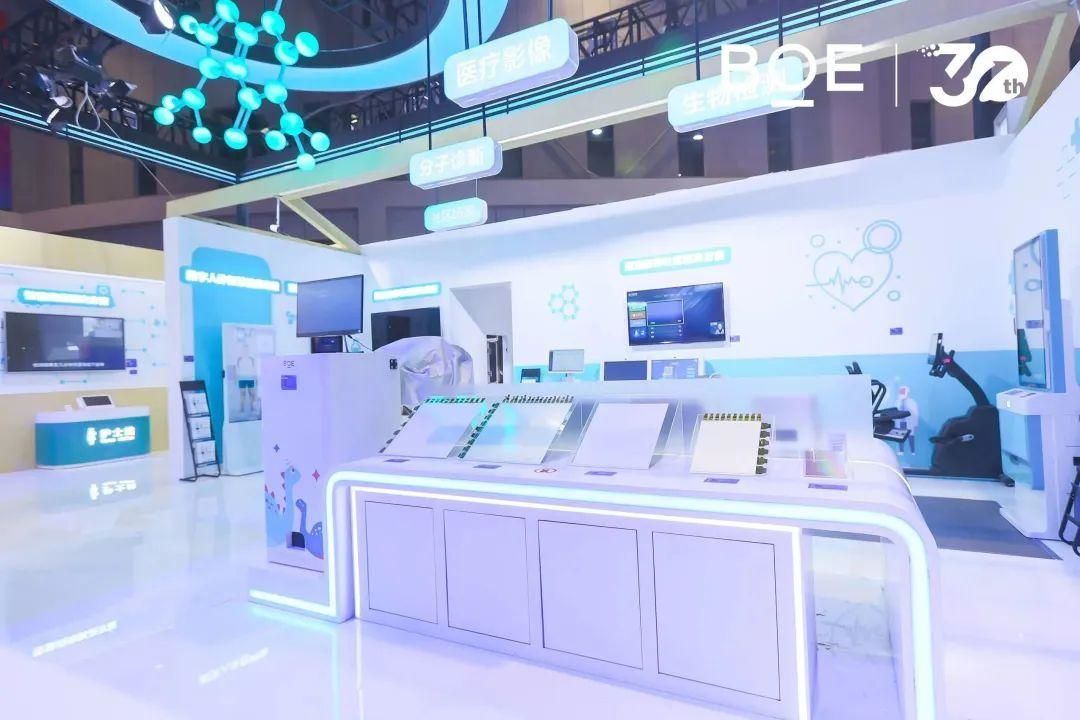 In the field of health management, BOE integrates the data collection capability of smart terminals, relies on the online + offline quality medical service capability, and creates a new model of "anytime, anywhere, everywhere health management" through the Internet of Things + hospital, so as to realize personalized and customized risk intervention programs, special disease prevention and treatment programs, health care conditioning programs, etc.
In the field of digital medicine, BOE focuses on the three tracks of intelligent terminal and system, molecular detection and regenerative medicine, and establishes three technology platforms with sensing, molecular detection and tissue engineering as the core. Meanwhile, BOE has built and operated several hospitals in Beijing, Hefei, Chengdu and Suzhou. 
In the field of smart health care, BOE is about to launch its first smart health care community, which adopts the CCRC continuous care model and features the integration of medical care, vitality sharing, and wisdom empowerment, which is an important layout for BOE to build a closed loop of full life cycle service. 
As a global innovative enterprise in the Internet of Things, BOE deeply integrates display technology, sensor technology, big data and medical and health services, providing a new path of "health + technology" for the smart health industry.
In the future, under the guidance of the "Screen of Things" strategy, BOE will further improve the whole chain of health management system, continue to build a full cycle of health services with health management as the core, medical and industrial products as the traction, digital hospitals and health communities as the support, and open up the whole chain of "prevention, diagnosis and rehabilitation", to help people live a healthier and better life.
---
Post time: May-25-2023